Main Content
SW Steakhouse
SW Steakhouse
American - Steakhouse
$$$$
Vegan Options Available
Prime aged steaks and a curated selection of certified Japanese and domestic Wagyu are the stars at the Forbes Travel Guide Four Star award winning SW Steakhouse. Think A5 Japanese Wagyu, dry-aged tomahawk chops and a chile-rubbed double rib eye, featured on Food Network's "Best Thing I Ever Ate." Main courses like pan-roasted sea scallops with English pea risotto and black truffle sauce are crowd favorites, as is the prime view of the nightly shows on the Lake of Dreams.


In the Kitchen with Mark LoRusso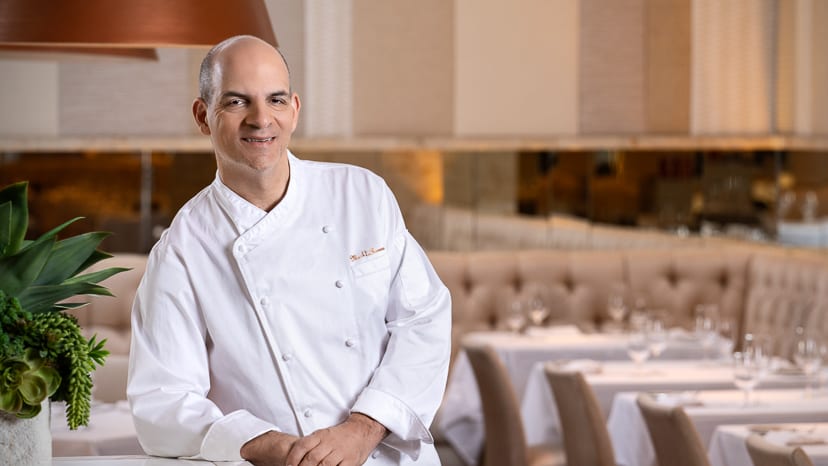 "I grew up in a typical Italian-American family that enjoyed traditional Sunday dinners," says Mark LoRusso, executive chef at SW Steakhouse. "I always loved those Sundays, because from an early age I saw that connection between dinnertime and family, and how food calmed everything and made people happy. For that reason, I never wanted to do anything else than be a chef."

LoRusso has helmed several kitchens at Wynn and Encore Las Vegas, but since joining SW in 2021, he's now overseeing the undisputed power-dining spot in the city. "This is where everybody wants to eat, no question," he notes. "Almost every night you spot someone famous: actors, athletes, and people who just really love food. We have to be top of our game every night."

At SW, guests enjoy a balance of exceptional beef with LoRusso's latest additions. "We get beautiful steaks from Snake River Farms and certified Kobe cuts, but I added a fresh ravioli with crab meat and artichokes in a Meyer lemon sauce that also does really well," he says. "When I see someone take that first bite and smile, it reminds me why I became a chef."
Frequently Asked Questions
SW is located inside Wynn Las Vegas. Go down the spiral escalator adjacent to Overlook Lounge and at left, find double doors leading into SW. On the Lake of Dreams, SW is positioned next to Aft Cocktail Deck, Lakeside and Bar Parasol.
Are the steaks at SW wet or dry aged?
Befitting a world-class steakhouse, SW offers a curated selection of wet-aged prime steaks as well as a variety of cuts dry-aged in house. The first steakhouse in Las Vegas to feature certified Kobe beef from the Hyogo prefecture of Japan, SW features a full program of Japanese Wagyu steaks, each with a quality score of A5 and a marbling score between 8-10.
What are the other signature 'don't miss' dishes at SW Steakhouse?
Popular starters at SW are the Maryland blue crab cake and the SW chopped salad, emboldened with avocado, crispy potatoes and Dijon vinaigrette. Other crowd-pleasing dishes include the pepper crusted Chateaubriand and the butter poached Maine lobster. Sides such as black truffle creamed corn and the white cheddar mac & cheese receive rave reviews.
What is SW Steakhouse best known for?
Experience the classic chophouse experience through a modern lens at SW. Expertly charred prime aged steaks and chops, a curated selection of certified Japanese and domestic Wagyu, seafood and shellfish, innovative side dishes and sublime desserts make the SW experience a cut above the rest. Nestled at the edge of the Lake of Dreams, SW offers birds-eye views of the shimmering lake, pine-topped mountains and coursing waterfall.
What is the dessert selection like at SW?
Every great steakhouse meal deserves a fitting finale. Marvel as hot chocolate sauce melts the clever Rocky Road sphere into a glorious heap of chocolate almond crumble, toasted marshmallow and ice cream. Or go with the nostalgic funnel cakes with strawberries, a clever take on the carnival classic, served with crème anglaise, salted caramel and chocolate fudge dipping sauces.
What is the outdoor dining experience like at SW?
Surrounded by a three-acre lake, the expansive outdoor dining terrace at SW is a spectacular setting for dining al fresco. At nightfall, the Lake of Dreams becomes an outdoor theater, with a multimedia experience that combines puppetry, an immersive soundtrack and lighting for a truly unforgettable spectacle. Kindly note outdoor tables can be requested but are not guaranteed.

What is the signature cocktail at SW Steakhouse?
Like the menu, the specialty cocktail list at SW offers a fresh take on the classics. A sophisticated spin on the Old Fashioned, The 12 Year Itch combines WhistlePig 12 Year Bespoke Blend Rye Whisky, Ed Dorado 12 Year Rum, sherry and tobacco bitters.
What is the wine list like at SW?
The wine list at SW brims with prestige, fine and rare wines. All of the wines on the 48-page list have been thoughtfully curated to show a range of styles, with particular focus on the great wines of Bordeaux and California.
What is the dress code at SW?
Collared shirts are recommended. No athletic apparel. No flip-flops or athletic slides.
"SW Steakhouse in the Wynn is one of the swankiest steakhouses on the Strip.   Come to impress your date or to celebrate a milestone occasion.  Or maybe just to celebrate your winnings."
- Conde Nast Traveler
Group Dining
For client dinners, welcome receptions and more, our chefs and events team partner to create custom menus served in uniquely designed private dining rooms.