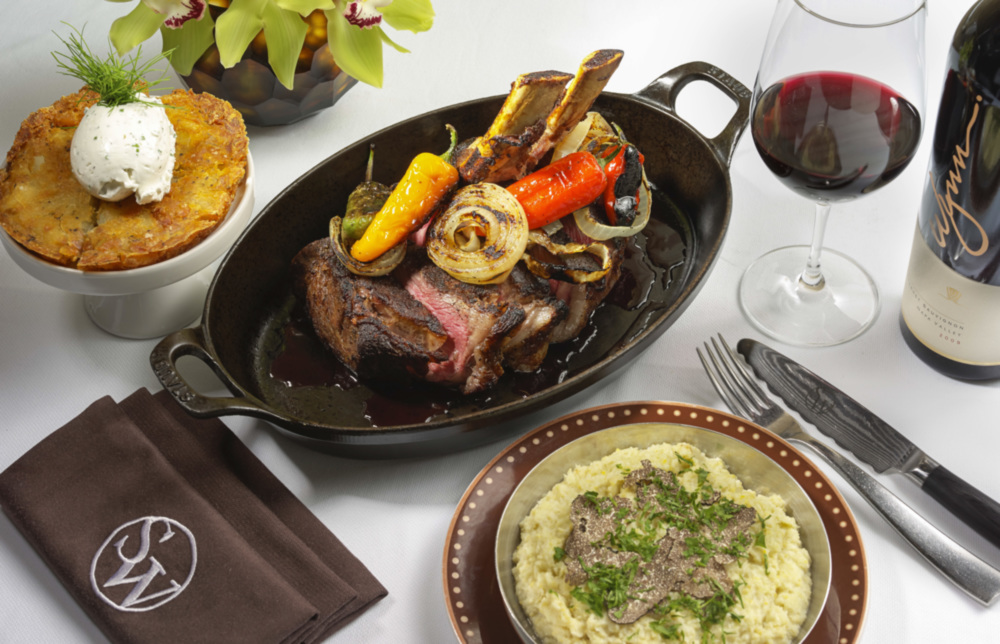 Main
Starters, Soup & Salads
Seafood Spectacular*
199
Maine lobster, king crab legs, jumbo shrimp, oysters, crab cocktail, tuna cruda, scallop ceviche (serves two)
Add Osetra Caviar: 15 grams / 112
Ossetra Caviar*
225 / 350
Jumbo Bone Marrow Flambé*
37
blackberry jam, grilled sourdough bread
Oysters On The Half Shell*
32 / 64
cocktail sauce, red wine mignonette
Maryland Blue Crab Cake*
34
pommes soufflé, malt vinegar aioli
Snake River Farms Carpaccio*
30
charred onions, dijon aioli, parmesan
Grilled Spanish Octopus*
36
hummus, Jimmy Nardello peppers, chimichurri
Yellowfin Tuna Tartar*
34
avocado, mango, soy vinaigrette, sesame lavash
Chilled Jumbo Shrimp*
32
fresh horseradish, cocktail sauce
Burrata
26
roasted mission figs, pistachio butter, crostini
Short Rib Ravioli*
25/50
dijon butter sauce, parmesan, crispy horseradish
Red Crab Rolls
34
citrus aioli, granny smith apples, caviar
Onion & Wild Mushroom Soup
28
braised short ribs, Gruyere croton
Kabocha Squash Soup
26
Alaskan crab rangoon, coconut milk, ginger
SW Chopped Salad
24
avocado, crisp potatoes, dijon vinaigrette
Baby Iceberg Salad*
26
grilled black pepper bacon, tomato, buttermilk blue cheese dressing
Caesar Salad*
24
garlic-paprika crouton, classic dressing
Japanese Wagyu
Wagyu cattle are known worldwide for producing meat with exceptional
marbling characteristics and naturally enhanced flavor, tenderness, and juiciness.
All of our Japanese Wagyu has a quality score of A5 and marble score between 8-10.
Kobe, Hyogo Prefecture, Tenderloin* / New York Strip* / Rib Eye* / Rib Cap*
300
4 oz. minimum, 75 per additional ounce, check with server for available cuts
Ideue Farm, Kagoshima Prefecture, New York Strip*
240
4 oz. minimum, 65 per additional ounce
Domestic Wagyu
Dry Aged Snake River Farms Gold Grade New York Strip*
130
10 oz. deeply marbled with a wonderful complexity and subtle sweetness
Charred Prime Cut Steaks & Chops
Our aged steaks and chops are procured from the finest Midwestern ranchers.
Béarnaise,* Chimichurri and SW steak sauces are available upon request.
Boneless Rib Eye*
95
18 oz.
Four Sixes Ranch, Texas
New York Strip*
84
16 oz.
Schuyler Ranch, Nebraska
Filet Mignon*
82/ 109
9 / 12 oz.
Schuyler Ranch, Nebraska
Bone-In Rib Eye*
145
26 oz.
Schuyler Ranch, Nebraska
Dry Aged Bone-In New York*
95
18 oz.
Flannery Beef, California (Dry Aged 14 days)
Four Sixes Ranch Filet Mignon*
82
8 oz.
Four Sixes Ranch, Texas
Double Cuts
Pepper Crusted Chateaubriand*
170
22 oz.
Schuyler Ranch, Nebraska, serves two
Dry Aged Porterhouse*
195
40 oz.
Flannery Beef, California (Dry Aged 14 days), serves two
Add to the Steak
Alaskan King Crab, Asparagus Oscar Style*
45
Burgundy Black Truffle Butter
14
Maine Lobster, Citrus Herb Butter*
55
Maple Glazed Smoked Bacon, Caramelized Shallots*
14
Rouge Creamery Smoked Blue Cheese Crust
10
Main Courses
Broiled Alaskan King Crab*
180
Butter Poached Maine Lobster*
150
roasted garlic and cauliflower purée, lobster glace
Pan Roasted Sea Scallops*
56
parsnip-apple puree, black truffle sauce
Pan Roasted Dover Sole*
98
potato purée, lemon caper emulsion
Roasted Branzino*
59
olive oil poached Mediterranean vegetables, warm balsamic vinaigrette
Faroe Island Salmon*
52
heirloom carrots, grilled radicchio, miso brown butter
Rosemary Roasted Chicken
46
braised Tuscan kale, pioppino mushrooms, madeira jus
Colorado Rack of Lamb*
84
herb-citrus crust, parsnip gratin, lamb jus
Side Dishes
White Cheddar, Smoked Gouda Mac & Cheese
19
Parmesan Creamed Spinach
19
Caulilini
19
romesco sauce, Manchego, marcona almonds
Maine Lobster Sardinian Gnocchi*
29
shaved black truffle, parmesan cream
Truffle Parmesan Fries
22
Sautéed Wild Mushrooms
19
Yukon Gold Potato Purée
19
Roasted Sweet Potatoes
19
marshmallow, walnuts, maple syrup
Vegan Selections
Appetizers
SW Chopped Salad
24
avocado, haricot verts, dijon vinaigrette
Entrées
Roasted Whole Celery Root
32
caramelized apples, almond essence
Side Dishes
Caulilini
19
romesco sauce, marcona almonds
Desserts
Housemade Selection of Ice Creams & Sorbets
14
Dessert
SW Pumpkin Cheesecake
19
New York style cheesecake, pumpkin spice cream, cookie butter ganache
Caramel Budino
19
salted caramel, caramelized popcorn, whipped cream
Rocky Road
18
chocolate almond crumble, toasted marshmallow, sweet cream ice cream
Housemade Selection of Ice Creams and Sorbets
14
To Share
Funnel Cakes & Strawberries
24
crème anglaise, salted caramel, chocolate fudge
The Marshmello
40
chocolate mousse, toasted marshmallow meringue, almond nougatine
Bourbon Butter Cake
20
candied walnuts, honey crisp apple compote, sour cream ice cream
Please discuss alternative service styles or menu items with your food server before ordering. *Consuming raw or undercooked meat, poultry, seafood, shellstock, or eggs, may increase your risk of food borne illness. MP – market price. Impossible™ is a registered trademark of Impossible Foods Inc.
© 2021 Wynn Resorts Holdings, LLC. All rights reserved. | www.wynnlasvegas.com