A new breed of pastry chefs is reinventing the sweetest course.
By Rob Kachelriess
This story originally appeared in Wynn Magazine.
Artisan Carolina Kepley has been a chef nearly her entire life. "According to my mom, I was already playing kitchen when I was a little girl," she says. "I thought it was just a hobby, and one day I said, 'You know what? It makes me happy. Maybe I should pursue this as a career.'" After attending Le Cordon Bleu and working in chocolate ateliers, she landed in prestigious kitchens in Aspen and has emerged in Las Vegas, at Casa Playa. At Wynn she is one chef in a new trio of pastry wunderkinds. They hail from all over and are redefining how diners experience the end of their meal.
Born in Peru, Kepley draws on her heritage and culture in a restaurant built on Latin flavors. "It needs to taste like back home," she says of each dessert. "It Carolina Kepley's Choco-Taco at Casa Playa: gianduja ice cream, coffee cream, and hazelnut in a chocolate waffle cone needs to give you some sort of feeling or memory, and taste like something I've had in Mexico, Peru or Colombia." Some of her recipes are traditional (flan she describes as one a grandmother would make), while others have subtle modifications (tres leches cake with French-style whipped ganache). All fit the restaurant's identity, a celebration of coastal Mexico—where drinks for an entire table, like the chile-and pineapple-infused flaming Sacred Cenote tequila cocktail, prime diners for a night out.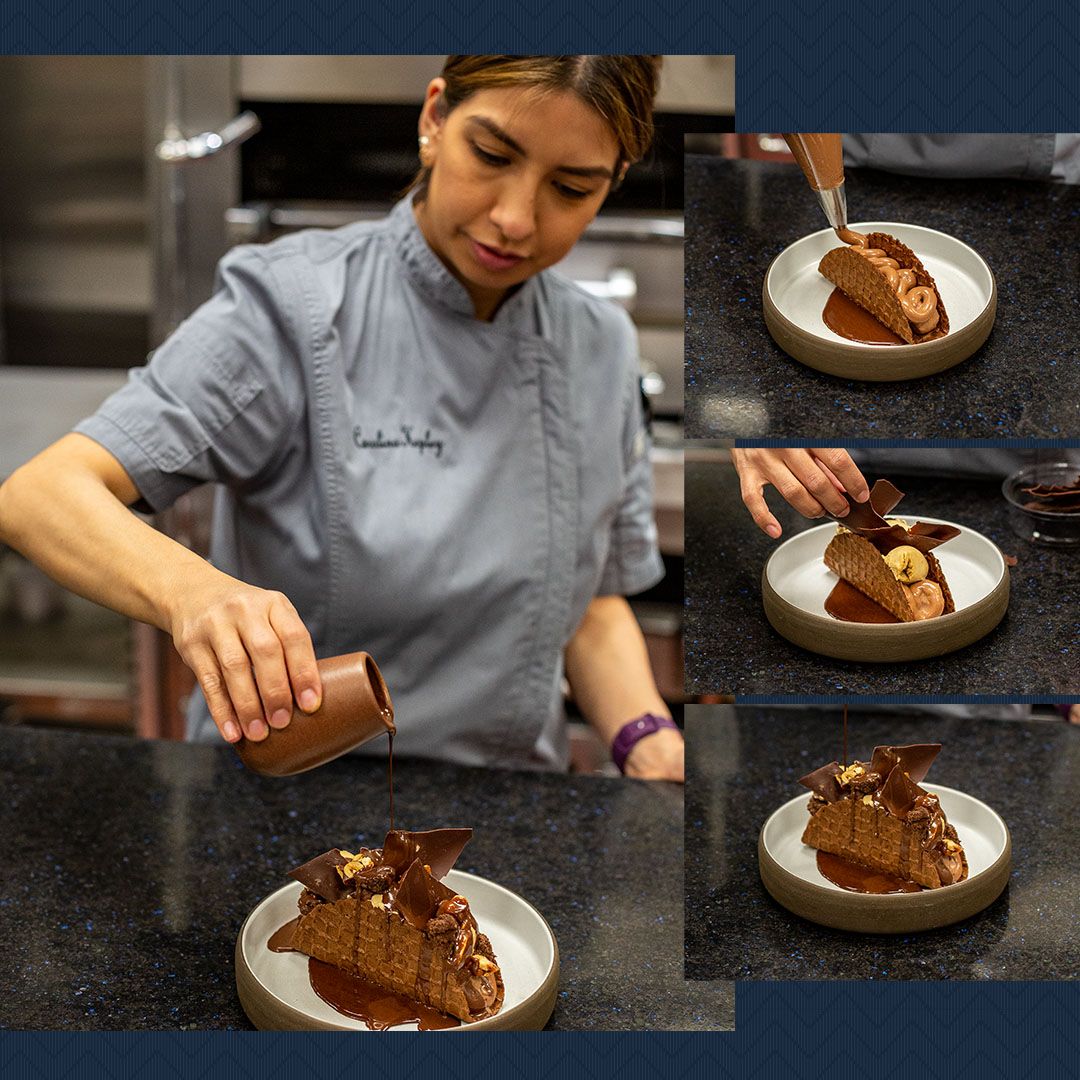 For French native and Delilah head pastry chef Benjamin Maigné, the desserts themselves may be whimsical, but the dessert course shouldn't be taken lightly.
"This is the last memory you will keep of a restaurant," he says. Maigné is accustomed to glamour; after all, he trained in Versailles and, among others, worked in Le Pavillon Henri IV—once the residence of Louis XIV, the Sun King. At Delilah, he occupies an efficient, stainless-steel-clad corner of the kitchen dedicated to serving guests in decadent, art deco surroundings. As one might imagine, he has somewhat departed from his traditional background for Delilah signatures like Kendall's Slutty Brownie. (Yes, it is named after that Kendall, a close friend of both chocolate and the original West Hollywood location.) Maigné has given it a "more Vegas" makeover at Wynn, with perhaps a nod to his roots (chocolate fondue, foam and a sphere exterior are involved).
He is revealing new desserts this spring and summer, including an adventurous reboot of a traditional baked Alaska, given a bright burst of honey and citrus within a beehive of meringue.
Michael Outlaw has not one but two dream jobs. He's the executive pastry chef of both Lakeside and SW Steakhouse, which overlook Wynn's Lake of Dreams. Born in California and raised in Las Vegas, Outlaw traveled the world, working for such luminaries as Joël Robuchon. While working his way up the ladder, mastering every station in the kitchen from line cook up, he became hooked on desserts.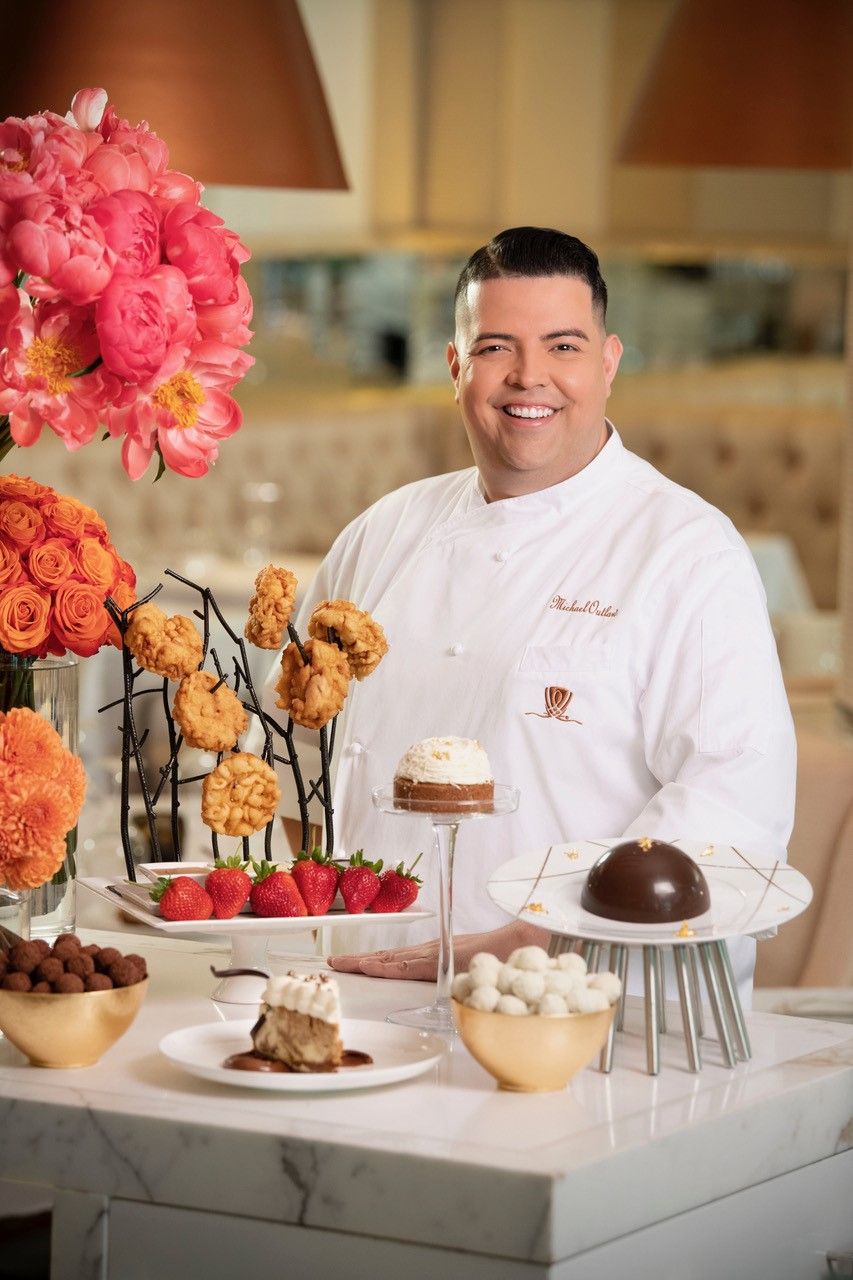 "I like being able to do pastries but also bring savory aspects into it," he says. "Instead of adding so much sugar, you can add salt because it brings out the sweetness in different elements," he says. His Apple Delight at SW is a great example of this balance: The apple galette is topped with sour cream ice cream. "It brings out a totally different flavor profile and creamy element to cut the richness of the galette itself," he says.
Outlaw's enthusiasm for housemade ice cream is hard to ignore. A whiteboard near his secluded steakhouse workstation lists the latest flavors along with a few hearts and doodles. By comparison, the Lakeside kitchen has large windows that draw in the energy of the dining room.
Both are environments that foster imagination. Outlaw is planning a crème brûlée sponge cake with popcorn ice cream and an edible QR code that plays a song when scanned with a phone. "It's something very whimsical, something very playful, but at the end of the day, something very memorable," he says.
---