Discover the delightfully unexpected on the dessert menus at Wynn and Encore.
The Desserts at Wynn are decadently diverse. Some are nostalgic. Some are whimsical – like the edible flowerpot cake at Jardin. Others are immediately recognizable as classics (think vintage supper club) but with a twist, and one was created and named with a distinct nod to pop culture. From Grandma's Gooey Butter Cake to Kendall's Slutty Brownie, the desserts at Wynn are anything but predictable and nothing short of divine.
Funnel Cakes at a carnival? Definitely. At a Five-Star resort? Surprisingly, again yes, if that Five-Star resort happens to be Wynn. Most diners come to SW Steakhouse for the premium cuts seared to perfection. But there's a growing group of devotees who come for SW's grand finale; the desserts created by chef Michael Outlaw.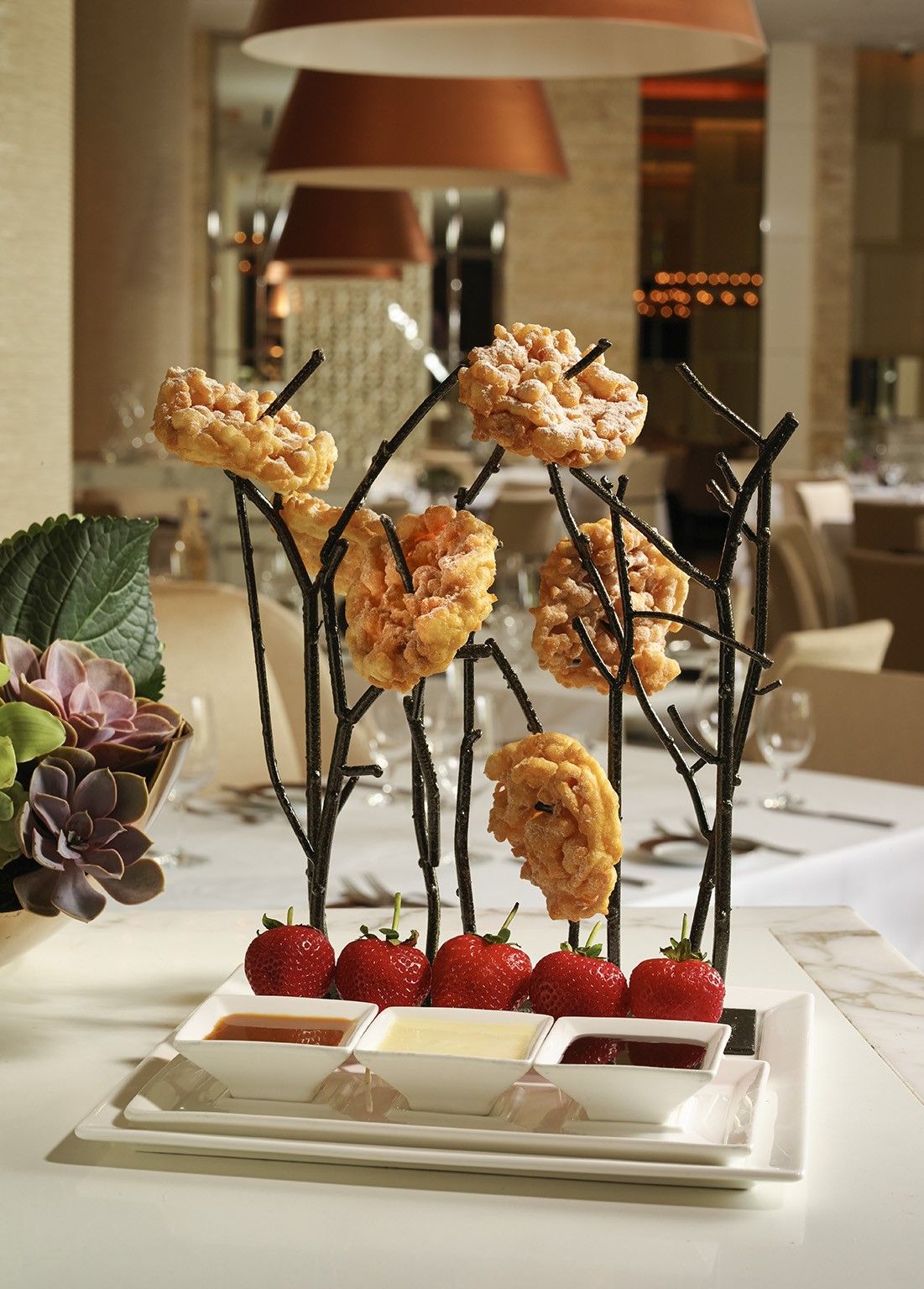 Bite into the crispy, melt-in-your mouth taste of nostalgia with this dessert. Dunk them into the crème anglaise, salted caramel and fudge sauces that come with the order, and these funnel cakes become next level. Fresh strawberries provide a juicy counter-bite to complement all the rich flavors of this popular confection.
Other favorites at SW include the Rocky Road dome with chocolate almond crumble, toasted marshmallow and sweet cream ice cream, and the Tahitian Vanilla Crème Brûlée served with raspberries, whipped cream and buttery shortbread cookies.
Remember the summer sound of the ice cream truck with its jingling melody? It was a call to action that sent every kid on the block running to peruse the frozen delights on board, like the classic Choco Taco.
Meet Carolina Kepley, the artisan and pastry chef at Casa Playa, Wynn's acclaimed Mexican Coastal Cuisine restaurant.  Peruvian-born, Kepley draws on her culture and heritage in creating desserts like her take on this frozen favorite with a taco shell-shaped chocolate waffle cone filled with gianduja ice cream, coffee cream and hazelnut.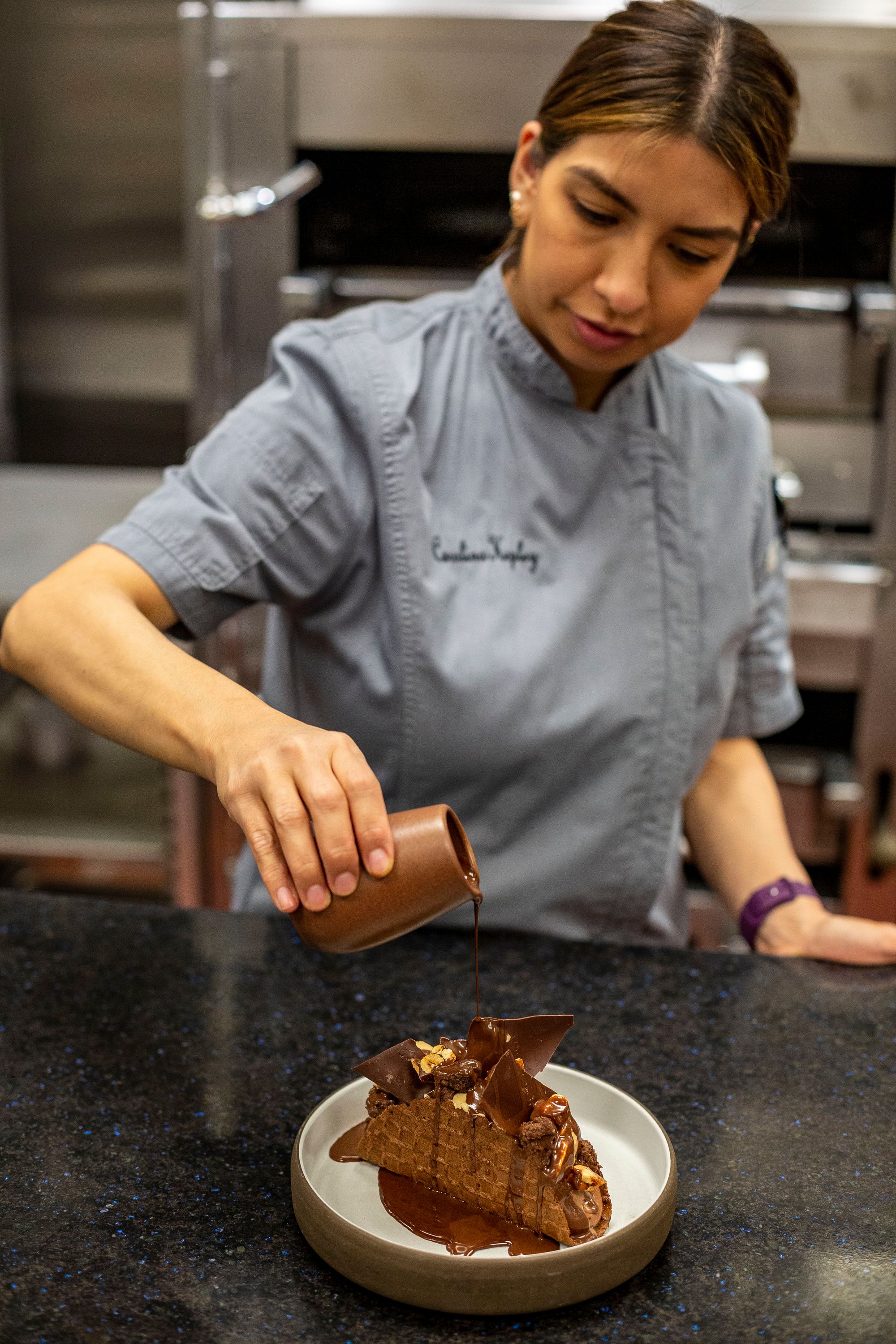 She is also the creator of Casa Playa's dramatic La Flama Blanca with caramelized banana ice cream, dulce de leche, pecans and flaming rum; and the exquisite Marigold, a milk chocolate mousse, dulcey ganache and Mexican chocolate sauce, with a topping piped to look like the ruffled flower itself.
A visit to the famed Delilah Supper Club at Wynn immediately transports diners back to the golden eras of Hollywood glamour and Las Vegas showroom glitz. Honoring tradition while still putting his own original spin on a classic, pastry chef Benjamin Maigne has whipped up the Beehive Baked Alaska, a treat for the table that serves 4-6 and is made with mandarin sorbet, sweet lemon ice cream, almond financier, toasted honey meringue and honeycomb candy.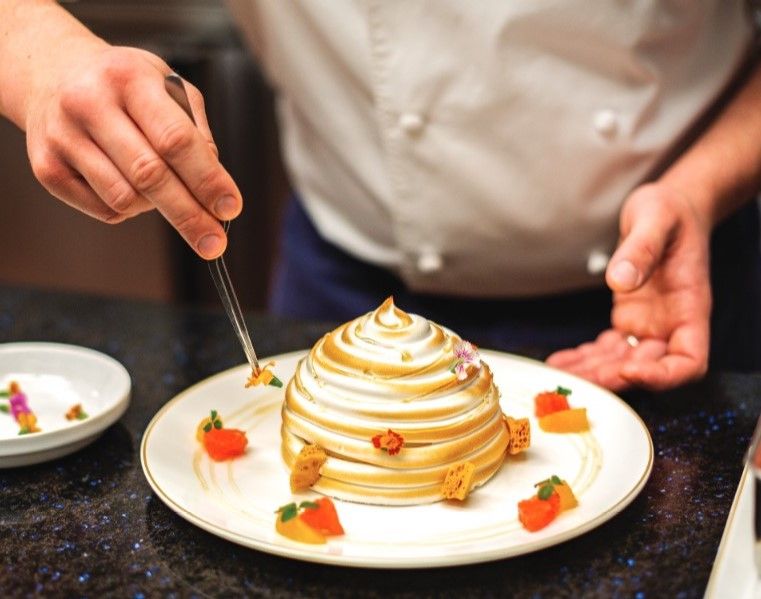 Topping the dessert menu at Delilah is Kendall's Slutty Brownie made with a chocolate chip and Oreo brownie served warm and topped with vanilla bean ice cream and a molten chocolate fondue. Pure decadence. And for a dessert that feels like a warm hug and tastes like heaven, try Grandma's Gooey Butter Cake. For a delectable vegan and gluten-free treat, dig into the Pineapple Upside-Down cake with caramelized pineapple atop a warm almond cake, passionfruit glaze and coconut sorbet.
Whether enjoyed at the end of a fabulous meal or as the main attraction ordered with a coffee or end-of the night digestif, the unique desserts at Wynn and Encore will linger in your memory long after the last, lovely bite.