Only 23 bottles of the precious Dassai "Beyond the Beyond" sake were produced and only four were sent to America. Three of those bottles landed at Mizumi in Wynn Las Vegas. This Forbes Travel Guide Four-Star Japanese restaurant, helmed by Chef Min Kim, celebrates the artistry of Japanese cuisine, with every dish quite literally, a work of art. To match that quality, "Beyond the Beyond" is a sippable treasure.
Dassai is premium Junmai Daiginjo sake — the highest grade of sake. Made from the award-winning Yamada Nishiki sake rice harvested in 2019 milled to 50 percent of its original size, each bottle includes a wooden case, personalized with the buyer's name in calligraphy.
Try Dassai 'Beyond the Beyond' Sake at Mizumi Las Vegas
Dassai is one of the most prominent premium sake brands in the world and was the first sake served in the White House in a Japanese state dinner with President Barack Obama and Japanese Prime Minister, Shinzo Abe, in 2015.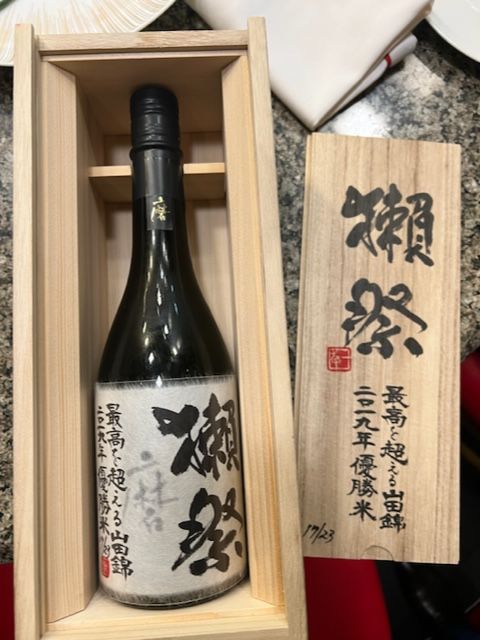 The Story Behind Dassai ...
According to auction news site, The Value ...
"Dassai is located deep in the mountains of the Yamaguchi prefecture and has a natural supply of pristine water. It is the first sake brewery to employ a centrifuge rather than a conventional press, resulting in a much smoother and cleaner taste.
" ... Dassai first planned to produce a Junmai Daiginjo sake with a rice-polishing ratio down to 25 percent. During the polishing process, the brewery learnt that a major producer from Nada was already selling a Junmai Daiginjo sake polished down to 24 percent. They decided to polish the rice 2 percent more, down to 23 percent. At the time, six days and six nights had passed since the polishing process started. That 2 percent more required an additional 24 hours. The whole process took a total of 168 hours, leading to the birth of Dassai 23, which is probably the most polished rice in Japan.
"In search of high-quality Yamada-Nishiki sake rice, Dassai initiated a contest entitled 'Beyond the Best Yamada-Nishiki Project' in 2019, calling on farmers of Yamada-Nishiki sake rice. It conducted various screenings including machine analysis, DNA testing, and visual inspections by professionals to select the winning sake rice. The winning rice, cultivated by Yoshinobu Sakauchi from Tochigi prefecture, was purchased by the brewery at approximately 25 times the market value."