Danny Michael has been cleaning up the edges, lathering up hot shaves and trimming beards as a master barber in The Barbershop at Wynn for five years. No two days are the same in his chair—but one thing that remains consistent is how he approaches every service with psychology, intuition and Five-Star service.
"There's a lot of intuition and of psychology in what I do. The psychology comes first, because I have to make you comfortable. And then intuition, since I have one chance to get this right," he says with a smile. "Every single person has subtle nuances with their hair, skin and appearance. It takes light touches, and not being heavy handed. If I go too far with one stroke, it could throw the whole hair cut off. I'm tap dancing with my hands as I do the hair cut."
In the profession for more than two decades, Danny moved to Las Vegas from Atlanta nine years ago. But through his craft, he is a student of the world.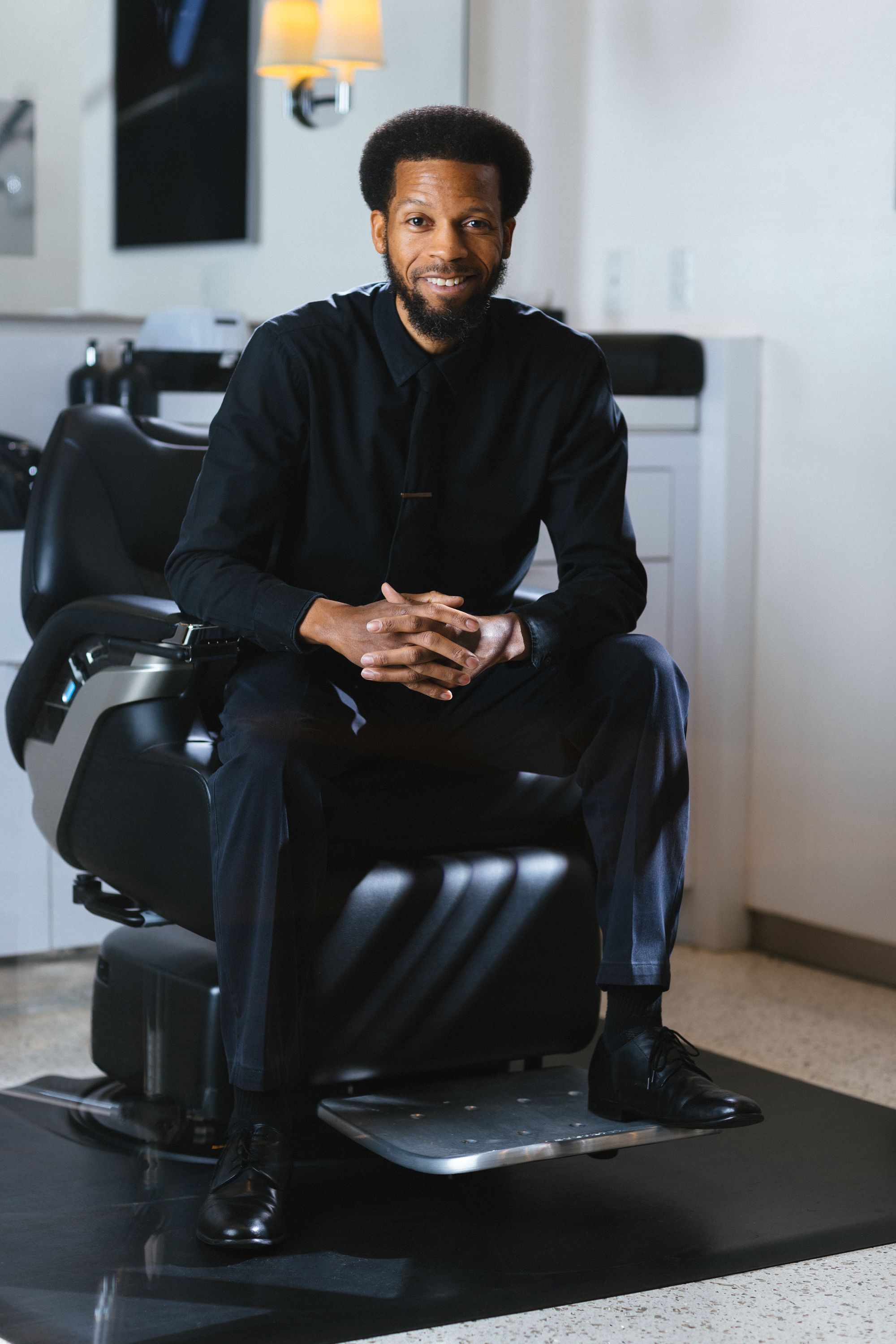 "My first barber school was in Ohio and I also went to school in Atlanta.  I've apprenticed at about four or five different shops. I've traveled around the country and studied under barbers and inventors, formulators, educators. I pick up pieces from everyone and I put it all together to make my own unique style," he says.
One of his most important mentors is black hair-care pioneer Wille Morrow, who not only commercialized the afro pick, but invented the comb attachment for the blow dryer. Michael is most impressed with Morrow for his innovations.
"He formulated blowout kits, which were a chemical process for loosening up tightly coiled hair, which later became the California curl, or Jheri curl. He was a chemist as well," Danny says. "He taught me that barbers could also innovate. We  see people every day, we notice certain things and then we look for solutions."
Danny says that 60 percent of his clientele are first timers. But you never know when they will pop up again.
"I may see a person three years later—people come to Wynn, and they have specific experiences they like to replicate. Once they find somebody they like, they want to come back."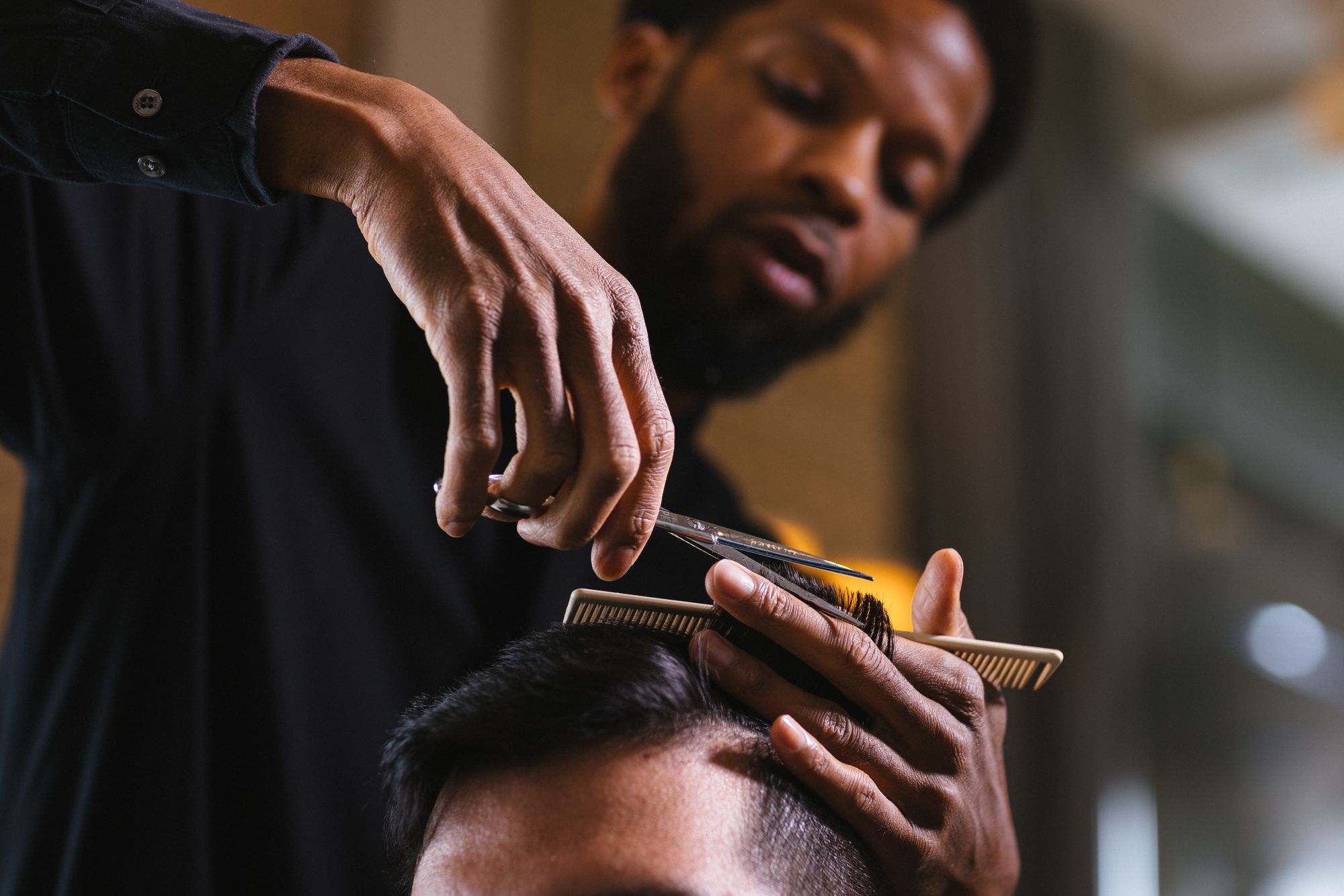 Since the master barber is picking up many times where one's "regular" stylist leaves off—he always starts with a consultation.
"A client describes what their stylist does and if they are satisfied or not," and Michael takes it from there. "I ask them questions like how much they want to take off lengthwise and other times they ask for me to create something with what they have," he says.
Danny's best advice? "Pattern your hairstyle based on what your hair actually does, not what you see in a magazine. The hair follicles are already set in a specific trajectory under the scalp. I use that while I'm cutting and to create the style. I'm not making a hairstyle that's contradictory to the nature of your hair. You don't have to worry about forcing it to stay a certain way. It'll just lay naturally."
The Five-Star Experience
Extending every touch of the Wynn's Forbes Five-Star service to what happens in his chair as well, Danny is truly a man about Wynn having been to every restaurant, store and venue—not only exuding but absorbing the standard.
"I take everything I know about being a barber and wrap that into the five-star, luxury-brand energy," he says. "I go online and I study different barber shops—their chairs, the highest quality razors. I immerse myself in all the best of the industry and then deliver that to the guests."
Two things Danny prides himself on his are his playlists and his conversation topics—a customized journey that could include John Coltrane, Frank Sinatra, Justin Timberlake and The Weeknd paired with discussions on quantum physics, world history or basketball.
"I keep my mind as broad as possible, in an honest way, because I actually have an interest in all of these things," he says. "I want there to be something everybody can appreciate in this world-class barbershop."
What to Expect at The Barbershop
Call and make an appointment. Select shave or hair cut or both.
When you meet Danny for your appointment, he gets you settled in The Barbershop with a hand shake, a refreshment and shares the process for the services.
For a shave, the treatment involves a facial cleanser, pre-shave oil, lathering shaving foam, a shave with a fresh blade in the direction of the hair flow, then oil, and lather, with hot steamed towels in between every step. He finished off with a facial mask, another hot towel and then an ice cold cryotherapy towel to tighten the skin and remove any inflammation. Then skin toner and aftershave balm are applied to finish.
"Nine times out of 10—no matter what part of the world they are from—a client will tell me they've never had a shave like that before," he says.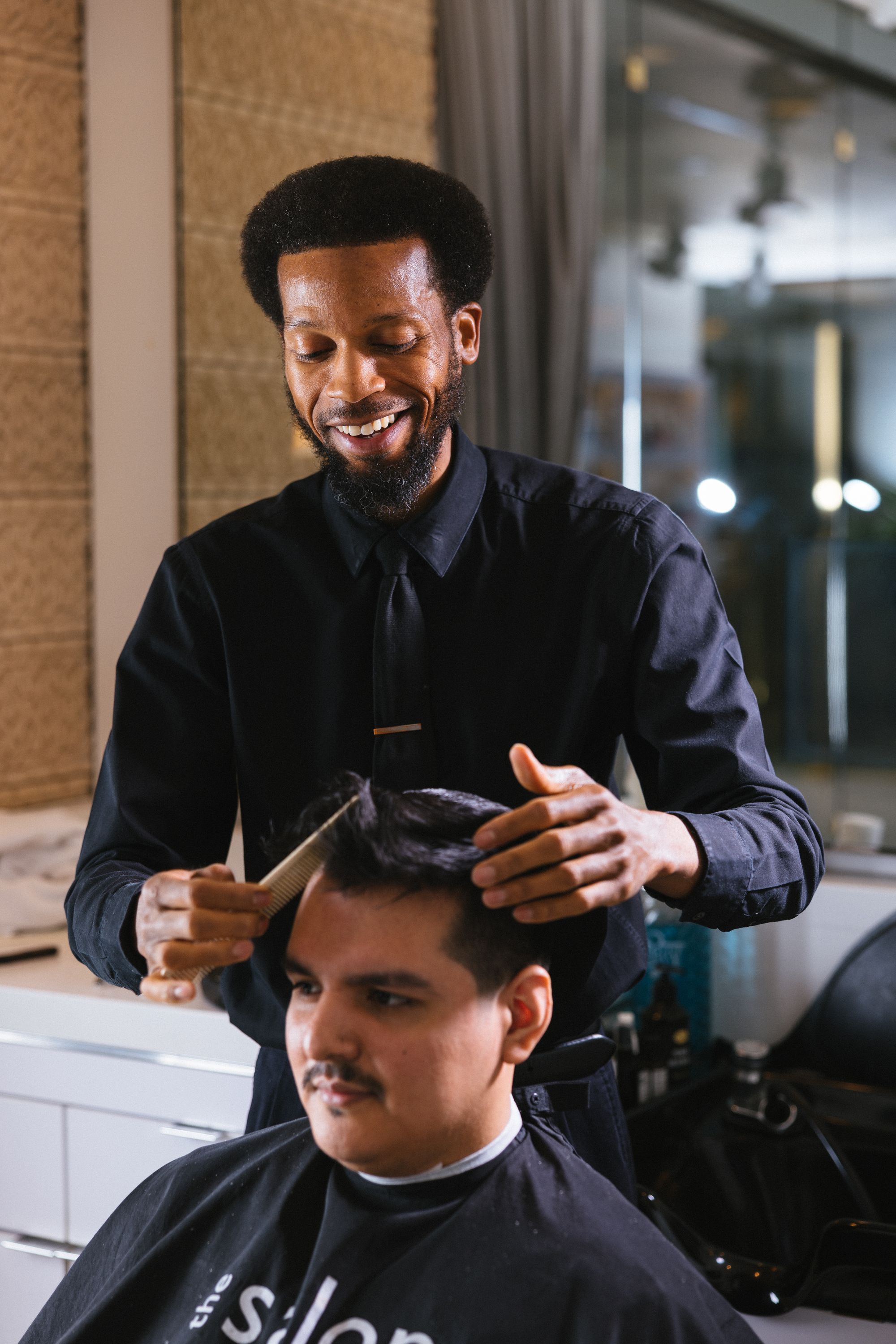 Every haircut opens with a consultation, Danny asks what you are looking for and how you want your cut.
"After that, I will shampoo. Then go into the styling depending on if it's a short or long cut, I leave it wet or dry. I go into the cut, I let you see the whole hair cut, which is not typical. Because you need to move the chair around to view it in the mirror. I let you watch everything I do," Danny says of how he breaks the ice.
"[Clients] lower their guard. 'Wow, I've never seen anybody use that technique, or you're using a razor to cut my hair?' Then they relax. Once I get the hair into form, I ask a few questions, 'Is it short enough? Do they want to fade higher? Do they want the sides closer? Do they want the sideburns this way or that way? Do they want the neck tapered?' I go in and detail the cut, clean up the edges with a straight razor. I rinse it out, get the loose hairs out, put in conditioner and style."
Danny confirms many men are not used to seeing their hair styled—they get it cut and go on about their life. He puts in product, does blow dryer work and shapes their appearance into a place that he thinks fits their personality, lifestyle, what they do for a living and their energy.
From there it ends as it began, with a handshake.
BOOK A SERVICE WITH DANNY MICHAEL AT THE WYNN BARBERSHOP
Services at The Barbershop at Wynn:
Deluxe Hot Lather Shave
Paraffin Hand Treatment
Haircut
Head Shave
Even Clipper Cut
Hairline Trim
Beard Trim