Four of the biggest names in football took to a completely different turf on June 1, as Wynn Golf Club played host to Capital One's The Match, the Sports Emmy-nominated premier live golf event series. This time, Tom Brady and Aaron Rodgers faced off against Patrick Mahomes and Josh Allen in a 12-hole showdown, with Brady and Rodgers winning a close one.
Here are some of the highlights you might have missed from the epic event.
The Trash Talk
Even before the game started, seven-time Super Bowl Champion and three-time NFL MVP Brady and four-time NFL MVP and Super Bowl XLV MVP Rodgers were ready to crush the younger superstars. Brady started by grabbing a Vince Lombardi-themed golf ball and telling the camera that Josh Allen had never seen one of those before.
"Josh, you haven't seen one of these," Brady said to the camera while showing off the golf ball.
Allen is the only one of the four QBs without a Super Bowl ring or AP NFL Most Valuable Player honors.
Wild Swings
Hamming it up, there were some wild swings over the afternoon with players yelling out "Fore!" multiple times and spectators ducking. Everyone relaxed and by the 12th hole it was all tied up and all business. Allen almost made a putt from the opposite side of the green to take the lead, but the ball stopped an inch short of the hole. That opened the door for Rodgers, who made his birdie putt and secured the 4-3 victory.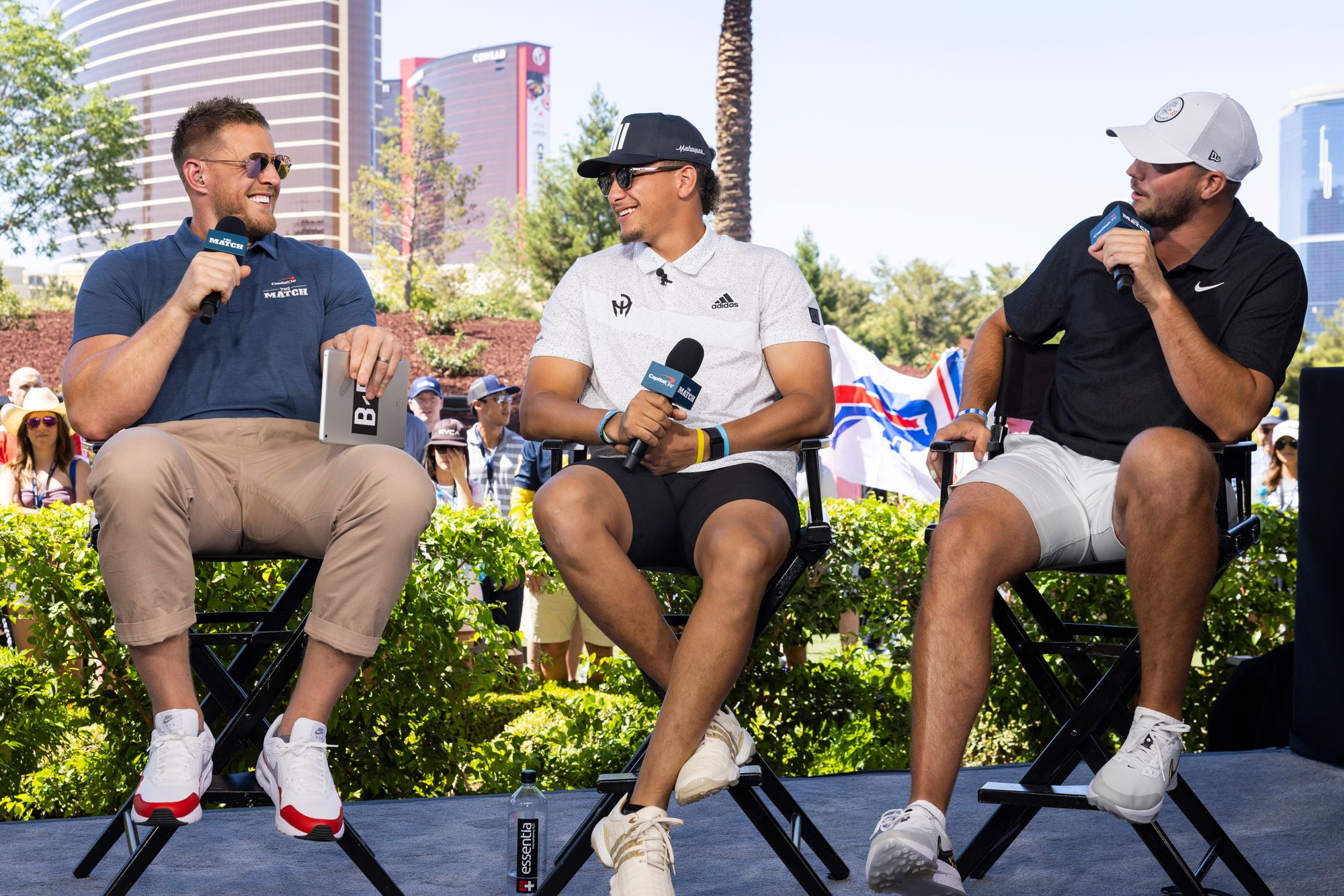 The Game Came Down to the Last Play
Brady and Rodgers edged Mahomes and Allen after trading leads multiple times throughout the match,
Rodgers sank the final putt — it was second year in a row in which Rodgers made the game-winning putt for his team. Last year, Brady and Rodgers were on opposing teams.
Mahomes and Allen Played Well Together
While they are rivals on the field, they paired up well – but still came up short.
How the Game Was Scored
The four quarterbacks played 12 holes of a match-play, modified format. Match-play scoring means whichever team has the best score on an individual hole earns a point, with tied holes not counting toward the overall score. Whichever team has the most points at the end of the 12 holes wins the match.