Dreaming of a carefree day serenely afloat on the deep blue sea, relaxing on the deck of your own luxury yacht? Nothing goes better with that scenario than a shake, a stir or a popping cork. Pick your beach, port, or ocean, then add a libation to complete the scene. If you can't get that far away — or just want to feel all those vibes — Aft Cocktail Deck at Wynn Las Vegas is here to help you set sail.
As one part of the three-part Cocktail Destination Collection on the Lake of Dreams, the all-new Aft Cocktail Deck, joins the newly renovated Bar Parasol and Overlook Lounge, in delivering a sense of discovery amidst unique settings in which to enjoy fabulous drinks.
Mariena Mercer Boarini created the menu at Aft to feature a supreme craft cocktail experience. While Todd-Avery Lenahan, president and chief creative officer of Wynn Design and Development, designed Aft to channel the beauty and elegance of yachting.
"Aft Cocktail Deck is inspired by the parties hosted on the aft of super-yachts," says Lenahan. "Together with Overlook Lounge and [Bar Parasol], the Cocktail Collection on the Lake of Dreams offers three unique destinations and personalities."
Located on an outdoor patio overlooking the water, Aft's terraced seating offers a perfect view of the Lake of Dreams show. Swathed in a nautical color scheme of blue, white and periwinkle, Aft Cocktail Deck features swivel deck chairs, plush banquettes, and nautical flags, spelling out "Wynn LV" flying overhead. Umbrella coverage is offered in the spring and summer months and even when the temperatures heat up, it's always the ideal day on this body of water. In the cooler months, enjoy seat warmers for a comfortable year-round waterside environment.
"I love to be inspired by the spaces I'm creating for, so when making the cocktail menus for Aft Cocktail Deck, I drew inspiration from some of the most glamorous and revered locales around the globe," Mercer Boarini says. "I also wanted to reinvent classic cocktails to offer guests new experiences that are reminiscent of familiar favorites."
The Perfect Sips
Add these signature cocktails to your must-try list:
Turks & Caicos ... a guava mojito with Bacardi Tropical Rum, pink guava, passionfruit, mint, fresh lime and sugarcane.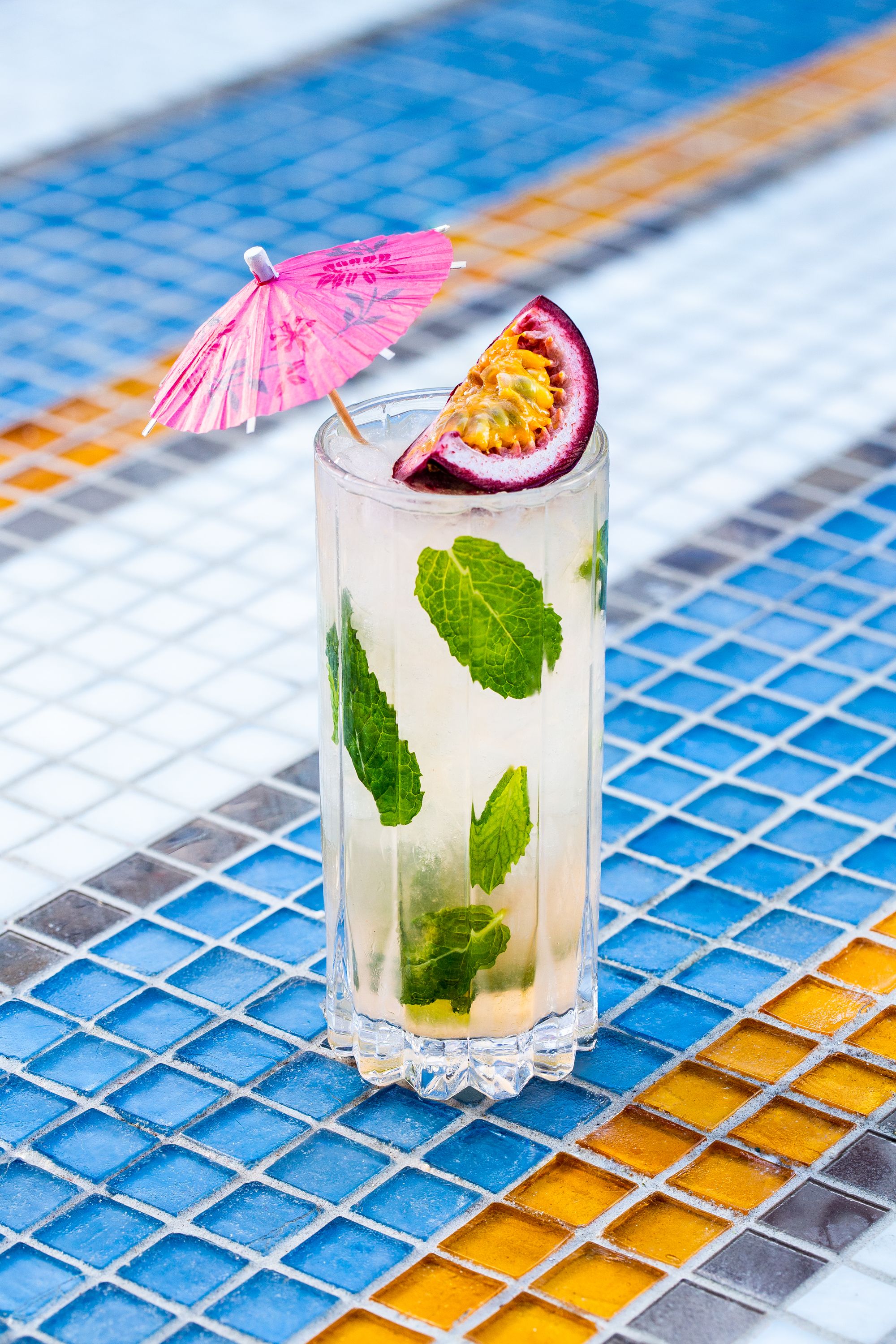 Monaco ... a seaside spritz with Belvedere Lemon Basil Organic Vodka, St Germain Elderflower Liqueur, lemon verbena, fresh lemon juice, ginger, butterfly pea blossom, and finished with a spritz of Mediterranean Sea inspired edible parfum. Refreshing and floral, but on the dry side. Electricdust—made of buzz buttons are a natural alkaloid that stimulate the salivary glands and turn you into a super-taster—pairs with the effervescence of the Champagne. As your tongue tingles, you will experience a journey of flavor as you sip your cocktail.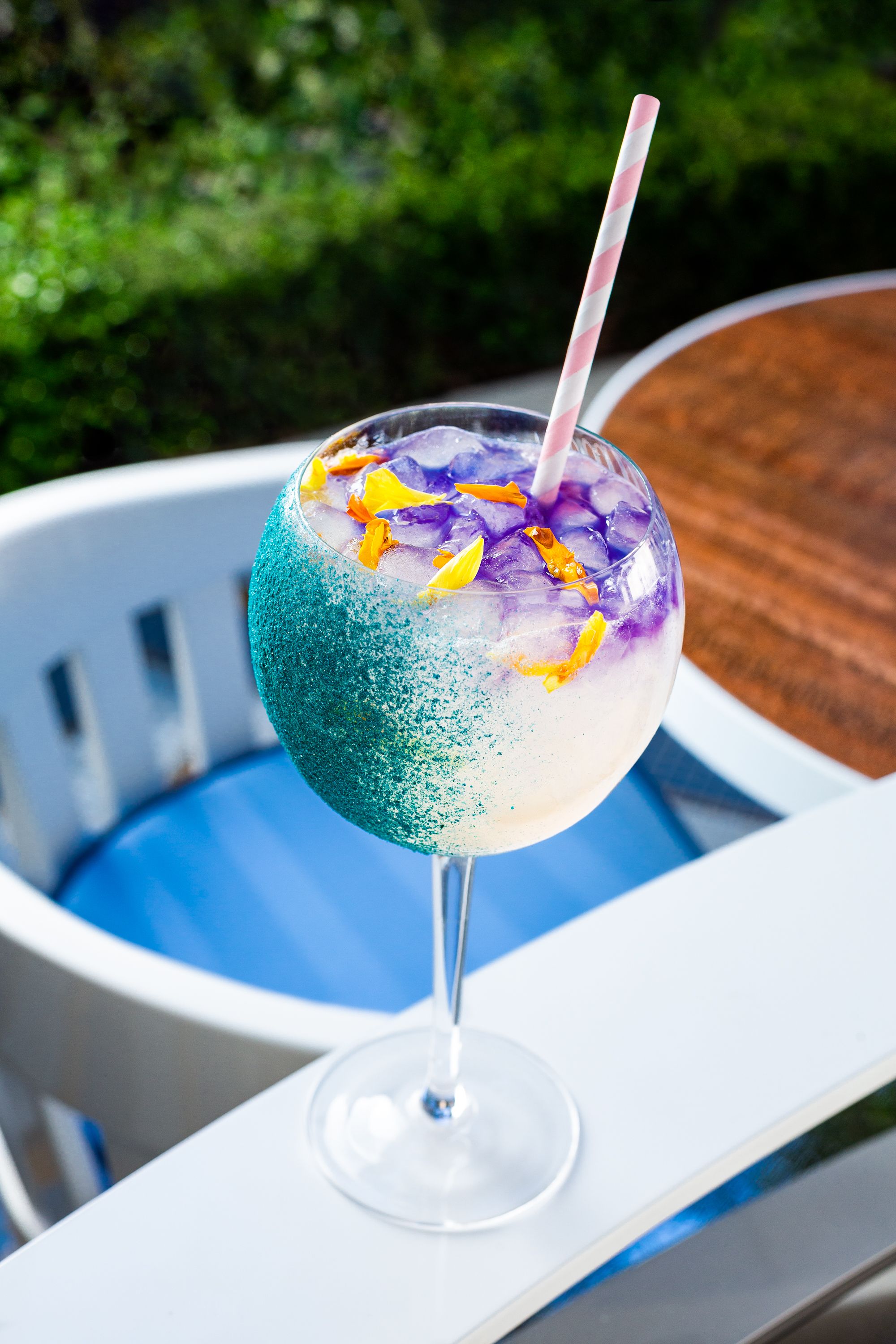 Ibiza ... a take on the classic Spanish Carajillo made with Madagascar Vanilla–infused Absolut Elyx Vodka, Kahlua Blonde Roast Coffee Liqueur, Licor43 and cold brew espresso. This is the lovechild of the Espresso Martini and the Carajillo to be enjoyed during the Las Vegas summer.
Cozumel ... a tropical Margarita inspired by travel memories of cocktails on the beaches of Mexico. The flavor profile is "sweet/heat" with a perfect balance of the two. The sal de flor is  punctuated by the indigenous flowers of the region and is a spiced mango Chile salt with house-dried flower petals.
While you're there, partake in savory bites such as the tuna tartare, beef carpaccio, seafood platters and other sumptuous fare also on the menu.
EXPLORE OUR OTHER COCKTAIL DESTINATIONS